BLS CPR & AED Classes in San Antonio
$59.95
American Heart Association AHA BLS CPR and AED Classes
CPR Certification San Antonio is here to provide you American Heart Association CPR classes. Our team has taught 100,000+ people across the nation with our same-day learning, testing, and certification process.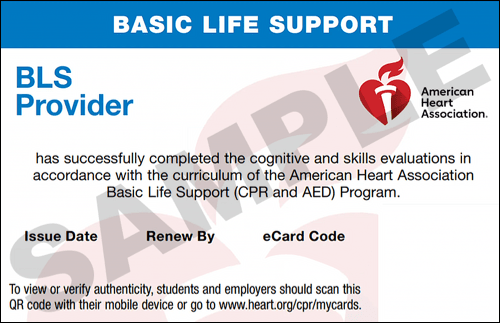 San Antonio CPR Classes
CPR Certification San Antonio is here to provide you American Heart Association cpr classes. Our team has taught 30,000+ people across the nation with our same-day learning, testing, and certification process. Our trainers will cover everything you need to know including —
Giving Basic Life Support (BLS) to infants, children, and adults
Knowing how to perform the seven steps of CPR
Using an AED machine
Feeling confident in any emergency
Our reasonably priced program is here to provide the best CPR training and learning experience.
Our CPR Training Includes
Same Day CPR + First Aid Cards
Hands on Chest Compression Training
Rescue Breath Training
AED Usage for Infant, Child, and Adults
Friendly and Relaxed Environment
Professional Instructors
CPR Certification San Antonio Locations
San Antonio's Best CPR Classes
Know CPR. Make a difference. Save a life.
Thousands of lives are affected every year by accidents, strokes, and heart events. We desire for everyone to know CPR. Our team of trainers is here to help you feel confident in using your BLS, CPR, and AED skills in any medical emergency.
What is CPR?
Cardiopulmonary Resuscitation is the medical technique of using chest compressions combined with rescue breaths to help save a life in distress. CPR keeps blood moving through the body to vital organs when someone has suffered from cardiac arrest.
What to Expect in Your CPR BLS Classes
In our program, your training will consist of learning the ABCs of CPR, knowing the differences when helping an infant or child versus an adult, and learning the seven steps of CPR, which is —
Finding a heartbeat
Performing chest compressions
And restoring regular breathing
When you choose our AHA CPR classes, you will attend the finest American Heart Association CPR course while also fulfilling OSHA requirements and being certified to perform CPR.
All employers and organizations accept our training, including —
Nurses, RNs, and CNAs
Hospitals EMT/Paramedic Companies
Home Health Aides
Personal Training Facilities and Gyms
Schools (Private and Public)
Hospitality Industry
Construction Sites
Daycare and Other Caretakers
Nursery Caregivers and Workers
Nursing Schools and All Other College Programs
Nonprofits like the Boy and Girl Scouts of America
Firefighting and Other Municipalities
Why Train With Us?
Curious about the benefits of training with us?
We love supporting our community!
Our CPR classes are the most accepted certification in the nation.
You can come to our training site, or we can come to you.
We offer hands-on, in-person, streamlined class times and smaller group sizes.
We provide your CPR card the same day you train and test.
FAQS
How do I complete the CPR course?
Once you register for the class, all you need to do is show up! Our program includes all required live-trained educational modules, ensuring that your card is AHA BLS CPR and AED Healthcare Provider certified. Our team will administer your training, answer all your questions, and facilitate your skills check and testing. Be careful of other online options that seem less expensive but could be missing the in-person training. Our CPR renewal class is a way for you to gain the highest-level CPR certification and prepare you to help save a life.
When can I take my course?
We have weekly CPR classes for you to choose from. Sign up today!
When will my certification expire?
You must renew your American Heart Association CPR classes every two years to stay compliant with OSHA and the AHA.
How long do the CPR classes last?
Class times are approximately 3 hrs.